Quadra-X Ring ( QX-Ring )

Great Wear Resistance !

Quadra-X Ring design reduces friction by as much as 40% because of smaller contact area. The X-Ring's 4 point contact patch also offers better sealing than conventional o-rings. Lab tests show the Quadra-X ring chains last 50% longer than a standard O-ring chain!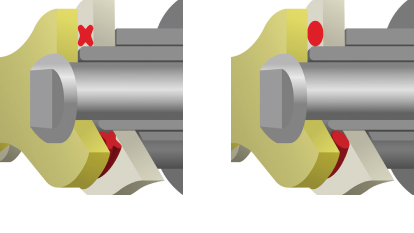 CRH Pin Treatment
Rigid and long life !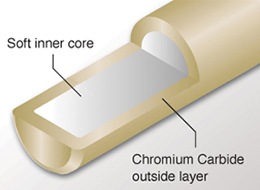 EK's exclusive CRH pin treatment provides an extremely hard outside coating and softer inside to increase strength and reduce chain wear. The Chromium Carbide pin surface coating also offers superior impact and shock absorption while reducing oxidation caused by natures elements.
Screw Type Master Link ( SLJ )

Easy Installation for your new Chain !

EK's screw type master links do not require any special tools for installation. This unique patented link gives a rivet-like fit, using only an 8mm wrench and a pair of pliers.


You heed only an 8mm wrench and a pair of pliers.
Lightening Holes
EK's Original Technology !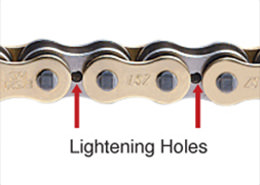 Lightening holes on the side plates
Reduce the chain's overall weight by 3%, without compromising tensile strength.
Extend the service life by dissipating heat.
Helping reduce dirt and mud build-up.